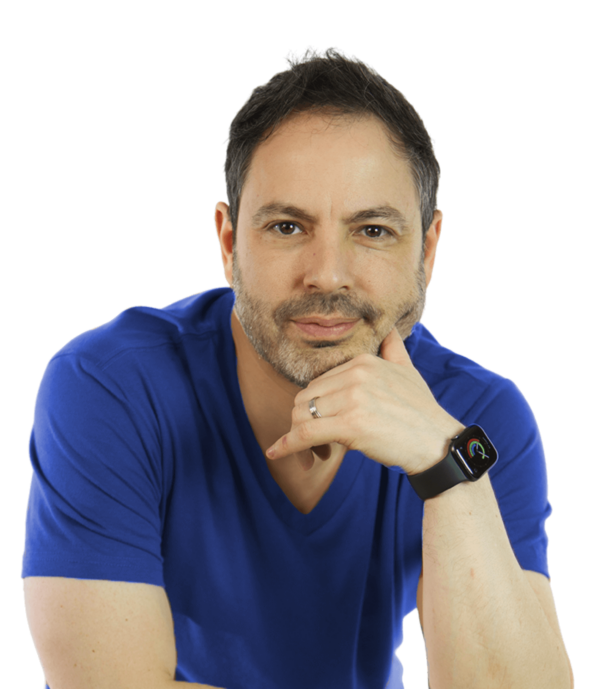 My name is Yuval Selik, and I live to help entrepreneurs succeed.
I'm the founder of two successful companies and now a host of The 7 Hats, a podcast where I interview inspiring entrepreneurs in the hopes of helping YOU develop and gracefully balance the seven critical areas of your lives so that you're able to IMPACT the world, but also find true fulfillment along your journey.
My goal with The 7 Hats is to give entrepreneurs like you the inspiration and strategies they need in order to achieve ultimate success – which is to become their best entrepreneurial self while simultaneously creating the complete and fulfilling life they've always dreamed of living.
I spent the past eleven years on a quest, learning how to be the man I needed to become to manifest all the blessings I enjoy today.
And now that I'm living the American Dream, it wasn't always like this…
There are no accidents, and there are no failures.
Only learning.
Listen to my entrepreneurial rollercoaster ride on the first two episodes of my podcast.
My Life Story in 98 Fun Facts
I may be an entrepreneur now, but it wasn't always the case. I was a corporate guy and transitioned into a wantrepreneur for years before taking the plunge into the entrepreneurial deep end of the pool.
Here's a timeline taking you way back and providing some context and fun facts along the way, leading to the launch of The 7 Hats podcast and my goal of Inspiring entrepreneurs to take the lifelong journey with me towards life's success, not just business success.
I was conceived in Russia and born in Israel; my Mom was 18 & my Dad 22.
At the age of three, I moved to Cremona, Italy, where my dad attended the International School of Violin Making.
At nine, my parents moved us to New York to pursue the American Dream.
My parents sent me to Hebrew School. I came home one-day singing religious songs, and my dad quickly sent me to public school.
I started playing the violin at four years old and stopped playing at the age of 12. I regret that decision.
My dad taught me a great lesson early on. He said when you don't practice a day, no one will notice. When you don't practice for two days, you'll notice. When you don't practice for three days, everyone will notice. Great life lesson.
I was born a foodie! I started cooking at the age of 12..
My first dish was spaghetti. The presentation was gourmet, but the spaghetti was crunchy. Really crunchy.????
Ever since I was six years old, I knew I wanted to change the world for the better.
I was an awkward teenager; I loved girls, but they didn't love me back :)
9th grade was hard. I was bullied the entire school year.
I love animals, especially dogs!
I would bring stray dogs home… my parents would kick them out.
My dream was to become a veterinarian, but after taking my first biology class, I quickly changed my mind.
In 10th grade, I took a business class that changed the trajectory of my life.
I was a front runner in a national stock market competition beating out thousands of high school students..
The movie Wall Street made me want to become a stockbroker..
I did horribly on my SATs, but negotiated my way into Queens College.
I joined AEPi Fraternity.
I was forced to wear a dress and full makeup all day at school. The brothers made me run around the cafeteria singing "I'm Every Woman".
I worked my ass off at Queens College and transferred to SUNY Binghamton.
The brothers at AEPi Binghamton voted me in as a transfer. As great as everyone was, because I didn't pledge, I didn't fully fit in.
Binghamton was the first time being away from home. I had access to burgers and pizza on-demand and gained 20 lbs my first year.
I'm an early adopter and a major tech geek.
I started smoking cigarettes at age 13 and found my vice. I quit (for the most part) in my 30s. I still grab a couple at social gatherings (I'm healthy, but not perfect!)
I used to run track but was never good at sports. I wish I were, but I was born uncoordinated, I guess.
I've been in love with infomercials since I was a kid. I could watch them for hours.
I was never into drugs or drinking. I smoked pot on occasion, but it always puts me to sleep. I prefer being sober.
In my junior year, I adopted two white cats with black markings on their necks resembling bow-ties. I named them Chip and Dale. I taught them how to sit, fetch, and give paw… Apparently, I had some extra time on my hands (and subconsciously wanted a dog).
I spent my Junior year at Binghamton studying the art of interviewing and landing that perfect job. I was scared of having to move back home.
Practice makes perfect! All that reading paid off. I received an offer from almost every interview I went on.
I tried my hands on the GMATs. Let's just say I'm not cut out for standardized tests.
I received an offer from a prominent Wallstreet firm. I wanted to become a stockbroker, but I didn't take that job.
Instead, I accepted a job at Kwasha Lipton, a small Benefits consulting firm in Fort Lee, NJ.
My first significant purchase was a green Ford Explorer. I loved that truck!
I was promoted to manager in my second year at Kwasha Lipton. I sucked at first. In my first disciplinary session with one of my teammates, he quit on me! That stung…
After that incident, I started reading every book I could find on management. My next crack at managing a team was successful, and no one quit on me :)
The two books that guided me on my managerial journey were The One Minute Manager by Ken Blanchard and The 7 Habits of Highly Successful People by Stephen Covey.
Seek to understand before being understood is one of the most significant habits ever taught… thanks, Stephen! I owe you for that one.
I binge-watched the Food Network. Emeril Lagasse (BAM!) and Bobby Flay were my heroes.
I decided to become a chef and toured the French Culinary Institute of NY. That dream never came to fruition..
On September 11th, 2001, I watched the towers fall to the ground from the Kwasha Lipton parking lot. No words…
My dad had needles in his ass and moved us every two years to a new location (sometimes multiple times)… We should've started a moving business. We were such pros.
October 2002, I left everything behind and moved from my NJ apartment to LA. Life would never be the same.
I was living the LA life… yoga, beach, smoothies, Melrose, and Beverly Hills..
After a few months, my parents kicked me out and told me to get a job! They said to stop mooching off them :)
I got a job at Hewitt Associates in Newport Beach and moved to Costa Mesa.
I met my soon-to-be wife Alla Korot through a couple of matchmakers… one of whom was my Mom.
Alla and I went on our first date on April 1st, 2003. I asked her to move in with me six weeks later. Two weeks after that, I proposed.
As soon as we met, Alla and I took a Yoga and Spirituality teacher training course at a Hare Krishna center in Venice, CA.
Atma our teacher named us YUVALLA (YUVAL + ALLA).
YUVALLA means flowing river Divine.
In the class, I dreamed up an idea of a wellness center we would name YUVALLA WELLNESS.
YUVALLA WELLNESS was my first real entrepreneurial venture.
We had our wedding on August 29th, 2004. Our signature drink was The Yuvalla Martini (White Godiva Chocolate with Vodka)… 1/2 the party was drunk off their minds… that shit will sneak up on you..
Our wedding song was "At Last" by Etta James, covered by Eva Cassidy. If you haven't heard of Eva Cassidy, I strongly urge you to look her up.
I'm an amateur photographer who thinks he is a pro..
I'm an amateur home cook who wishes he was a pro.
The 4-Hour Workweek by Tim Ferriss changed my life.
I printed out my top 10 mentors and hung their photos in my bedroom so that when I woke up, I got inspired.
YUVALLA didn't happen (yet), but L'uvalla, a skincare and beauty brand (my 2nd company), was birthed as a result.
We started L'uvalla at LOHAS, created by Ted Ning. I will be interviewing him on my podcast (a full-circle moment for me).
L'uvalla achieved national retail distribution and became a multi-million dollar brand.
As a first-time founder, I made every mistake in the book.
I learned one of my greatest lessons… Don't give your power away to anyone, especially your co-founder.
I tried to raise funds and lost $10,000 to a scam. Then lost another $21,000 to a scumbag who took advantage of our inexperience.
We lost all our retail distribution due to the 2008 Financial crisis and my inability to figure out how to promote profitably.
I hit rock bottom and was about to lose everything… my health, relationships, marriage, company, and myself in the process.
The night I hit rock bottom, I asked myself the one question that got me out of feeling sorry for myself and changed me forever.
That question was, "What is it about me that manifested all of this in my life?"
I was $1 million in debt and no income coming in.
Alla and I were sitting in front of bankruptcy attorneys, getting schooled on Chapter 7, 11, and 13 laws.
A chance encounter with two psychics changed the course of my life and allowed me to work my way back to success.
I had to get a job at US Bank to support Alla and me. Back to corporate :(
I negotiated with our financial institutions reducing interest charges from a range of 25 – 40% down to 0 – 4%.
Because the banks were accommodating, we did not have to declare bankruptcy.
L'uvalla successfully pivoted online (DTC).
Because of the lessons we learned in retail with L'uvalla, I launched Promomash (my 3rd company), a SaaS software and services company.
My co-founder and friend Chris Ambarian is the most intelligent and most charming (not!) guy I know… I am proud to call him my co-founder.
We like to joke that between the two of us, Chris and I make one fine executive.
I worked 100+ hour weeks for eight years, working full time at US Bank and helping Promomash get off the ground.
I met Ara Mahdessian, the CEO of ServiceTitan when we were fundraising for Promomash. He was running a $10 million a year business… ServiceTitan is now a multi-billion-dollar unicorn. Such an inspiration…
Promomash became a massive success in the CPG field promotion space.
My main objectives when starting Promomash were Culture, Product, and Client Success. Promomash has all three in spades!
I'm proud of the remote team we built across eight time zones.
After years of working with hundreds of brands in field marketing, we expanded our scope into managing the entire range of trade promotion activities.
On the heels of our best year in 2019, we experienced the second "black swan" event of my career: COVID-19.
Demos and Field Marketing Events disappeared virtually overnight due to closures and lockdowns! It hurt. Deeply.
Luckily, we had our Trade Promotion Management side of the business to help us avoid a disaster.
I'm so proud of our team. They stood by us in the most challenging of times.
After two decades of applying the teachings of the most successful entrepreneurs, I decided to give back to the entrepreneurial community through mentorship and The 7 Hats Podcast.
My favorite spiritual book is "A New Earth: Awakening to Your Life's Purpose" by Eckhart Tolle.
My favorite marketing books are the DOTCOM, EXPERT, & TRAFFIC SECRETS trilogy by Russell Brunson.
My favorite business book is Think & Grow Rich by Napoleon Hill.
My favorite biography is "Steve Jobs" by Walter Isaacson.
For the past few years, I have consistently honored my morning and evening routines. Game changer!
I never leave a bathroom without high-fiving the person I see in the mirror. Thanks, Mel Robbins.
Steve Jobs said it best: you can't connect the dots looking forward… you can only connect them looking backward. And I agree!